This post may contain affiliate links. To read the full (and a little boring) policy click here
All Prices indicated in this post were relevant at the time when I made it. I will do my best continue to check and update if anything is changed or discontinued over time
This hockey gift list was made with so much love and research.
I wanted to come up with the ultimate list of gifts for hockey lovers in all capacities. This list includes gifts for the hockey fan, hockey player and hockey obsessed.
Many of these gifts I have given to my husband and kids in the past. I started the list with these picks because I personally have them in my house and love them! Shout out in advance to Sauce off and the super Deker because they are both played all year round and provide a lot of entertainment and "healthy competition" for everyone in the house.
Get ready to cross everything off your Christmas, Birthday and any other gift occasion lists! Let the Hockey Gifting begin!
Lets start with the Gifts that I've had the Chance to Give
1. The Super Deker
Price: $349.99
I swear this was the unofficial gift of christmas last year. It was probably just the age group of my kids, but it seemed like every family got one. My kids, my husband and myself love it. We all have our own personal records and we hold competitions on a regular basis. My two sons use it to settle every argument. Who gets to pick the movie? Best of three rounds. Not to mention you see a difference on the ice with their stick handling. Get it HERE
2. Sauce Off Game by Gongshow
Price: Variety of options and styles $60.00-$198.00
Sometimes my husband is impossible to buy for. For gifts he's pretty boring. Hoodies, jeans, guitars, scotch, hockey stuff, golf stuff and that's about it. First of all, talk about expensive hobbies. Second, it leaves very little room to be creative. So last summer when we visited some friends at their campsite and they had this little gem set up I was stoked. It instantly went in the brain as his Christmas gift. They are quite often sold out because they are so popular so go on their mailing list to stay updated and order it early. Get it HERE
3. Hockey Legs Jeans and Pants from Gong show
Price: $60.00-$85.00 Each
Oh that hockey bum. Both a blessing and a curse. If you are a married to a life time hockey player you know what I'm talking about. I talked about my husbands butt in our wedding speech. Its just that great. However! Hockey men have thick thighs and are hard to find jeans for. Ta-da! In comes Gongshow to save the day. These are a great price, great quality and his favorite jeans. Get them at Gong show Gear
4. JR NHL-Opoly
Price: $36.99
This was a super big hit for both a gift and game night. Easy to play with the little ones, but because it was hockey based my older son didn't groan at playing a "little" kid game
5. NHL Matching Game
Price: $14.99
My 4 year old thought this was the best thing ever. The matching game aspect of it only lasted a week and now I just have NHL logos all over my house. But they place with them constantly. They use it more like a skill testing to see who has all the NHL logos memorized. But hey, they are having fun so who cares if they are playing it wrong?
6. Blade Shades
Price: $39.99
These are a great stocking stuffer. Well only if you are like us and only do a few stuffers. Because they are not super cheap. But well worth the price. Great quality and my oldest kiddo loves them so much he hasn't lost them. That's worth it on its own!
7. Hockey Net
Price: $175.99
Best way to get your kids outside? Put a net on the driveway. Guaranteed hours of fresh air and exercise. Not to mention its a great way for kids to build relationships with other kids on the street. Perfect Gift for hockey kids.
Now Lets Move onto all the other gifts I've found and Can't wait to get for this year!
8. Super cool Table top Hockey slingshot game
Price: $20.54
I think this one will be a great Christmas gift. Its great for any age and will definitely be played a ton. The only problem I foresee is the boys two year old little sister stealing all the pucks and running away, but that's a game in itself!
9. Hockey Periodic Table Poster
Price: $20.00
How creative and cute it this! Luckily my sons share a room so if I buy it for one then they both get to enjoy it! Get it HERE
10. Gonger Pong Table
Price: $160.00
Ok I'll be honest. I"m not entirely sure where I'm going to fit this but I feel like we need it. It might have to wait for summer time when we can play in the backyard. But I'm super excited for it. You are probably recognizing a trend at how much I love the Gongshow website. Their stuff is amazing. Get the Gonger Pong Table HERE
11. Goalie Mask Standings Tracker
Price: $29.34
How handy is this little thing? If you have someone in your house that is very numbers oriented, this is a great hockey gift. Gives an instant visual to how your team is doing this season.
12. Hockey Bedding!
Price: Variety of sizes. Starting at $64.85
Its cozy, its cool and its hockey. Trifecta. Looks like a hit to me
13. This Very Creative Puck Display Case
Price: $160.00
We have some great sentimental pucks. A few signed pucks from my husbands childhood and each of my kids first goals. This is a great decoration for the kiddos bedroom. Get it HERE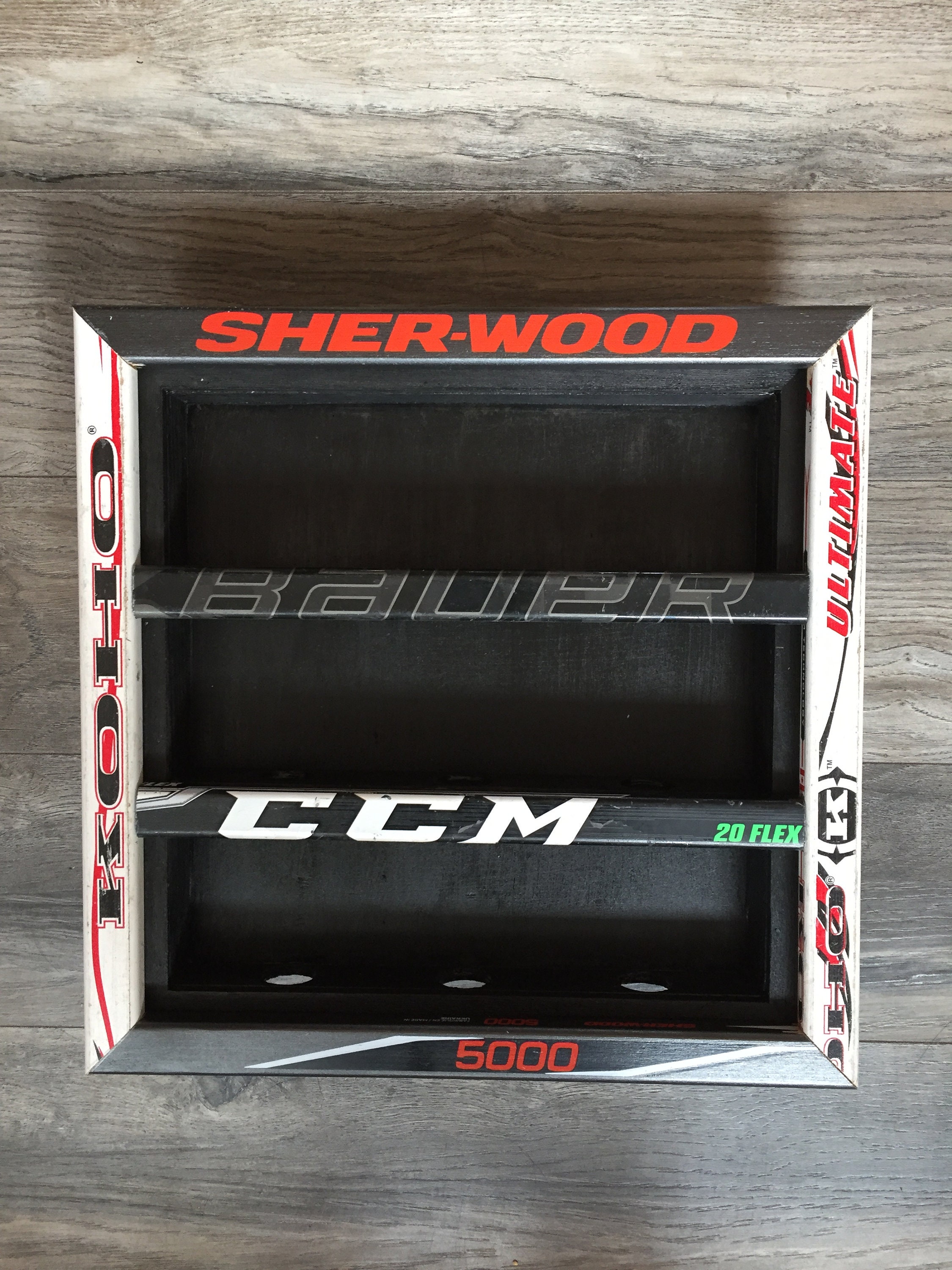 14. NHL Coloring Book
Price: $7.95
This one looks like a great stocking stuffer! And a really good price too.
15. Hockey Trivia Book For Kids
Price: $11.83
Again a great stocking stuffer and a lot of fun to challenge everyone's knowledge. Mine might be a little lacking but maybe I could keep up with the kids?
16. Hockey Stick Snow Brushes
$16.00 Each
I think this might be the most Canadian thing I've ever seen. These are 100% going in my husbands Christmas list this year. Great Hockey lover Gift. And original! Get it HERE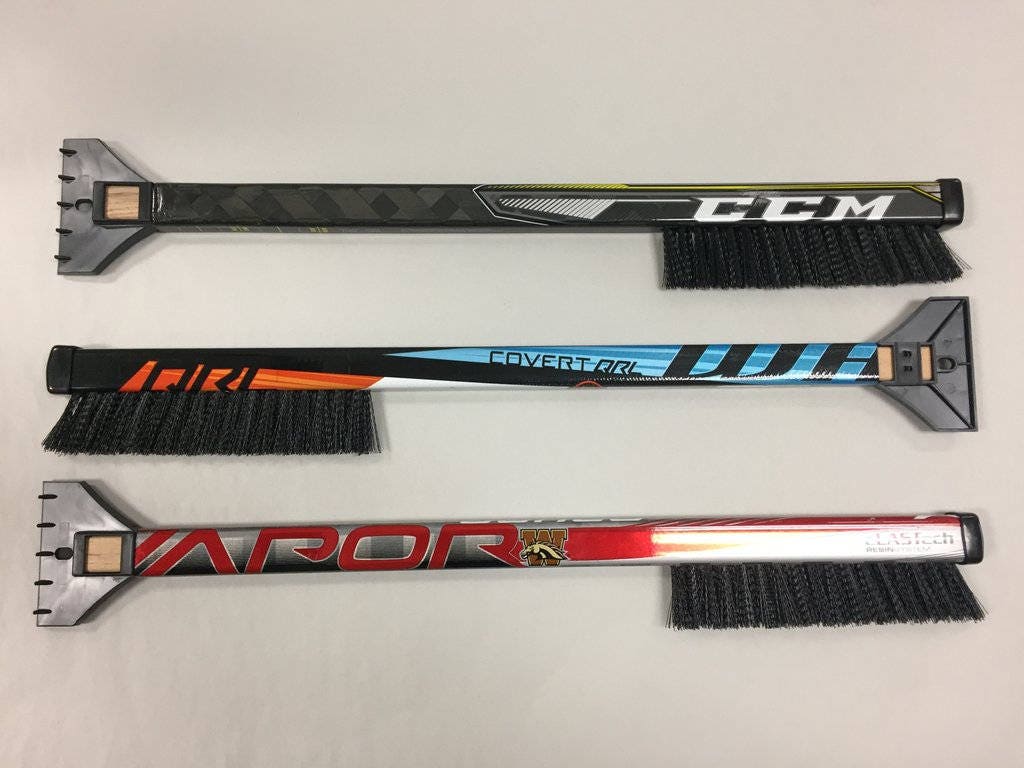 17. Hockey Stick BBQ Tools
Price: $12.00
Hockey stick snow brush in the winter and then onto the hockey stick BBQ tools for the summer. Perfect! Get the BBQ tools HERE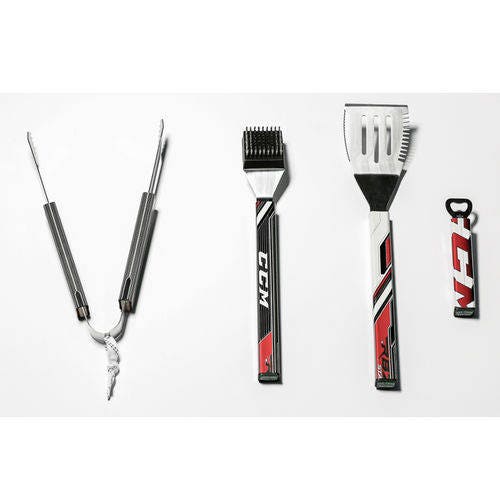 18. Roller Gard for Skates
I haven't decided if this will be a great product or a disaster. If I end up buying them I will edit this to inform you. My thought process is that at the very least they could be used to break in new skates over the summer before the season starts. Wouldn't be able to practice edge work, but maybe help improve crossovers in the little ones?
19. Hockey Stick Chair
Price: $199.00
Would I want it in my living room….probably not. But around the fire pit yes please! Find it HERE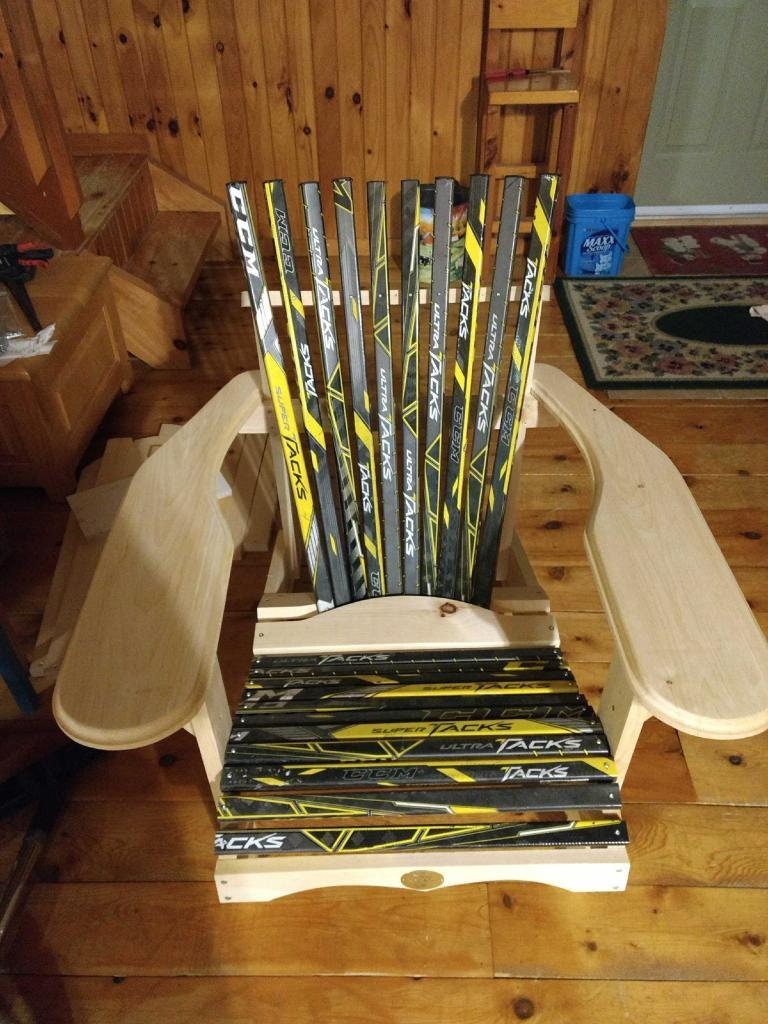 20. Custom Wall Hockey Decal
Price: $58.60-$200.82 CAD
I just keep picturing sending the kids to Grandma and Grandpas for the night and when they return home having this set up in their room. I would have to get two for now and when my daughter gets older maybe three! I'm going to need some bigger walls. See the Decals HERE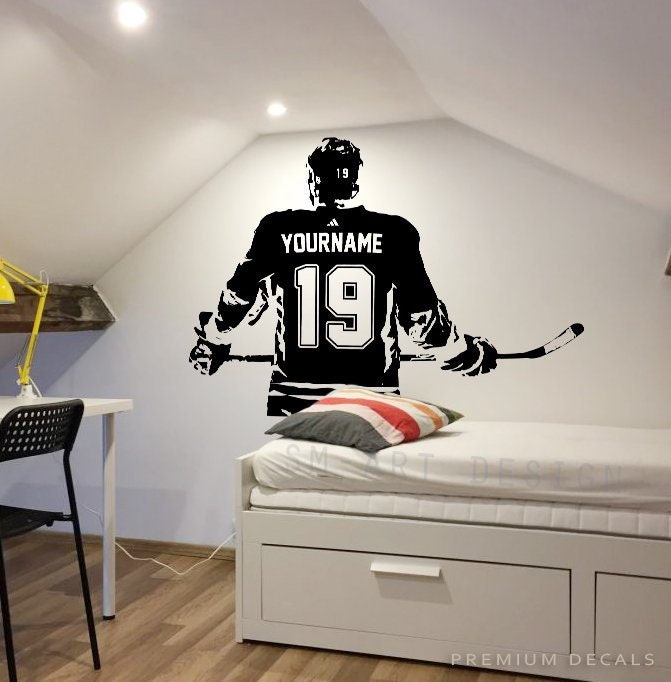 21. Automatic MINI hockey ball passer
Price: $34.99 CAD
I looked at this one a few times before I realized it was mini and meant to be played with mini sticks. Would be great for hand eye coordination and can be played indoors
22. Z is for Zamboni Book
Price: $9.78-$24.58
This one is available on kindle, in paperback, board book and hard cover. Perfect little book for your hockey players in training.
23. Hockey skate Cufflinks
Price: $87.95
Realistically its once a year that my husband might need cufflinks but these are perfect for such an occasion. Love them! Get them HERE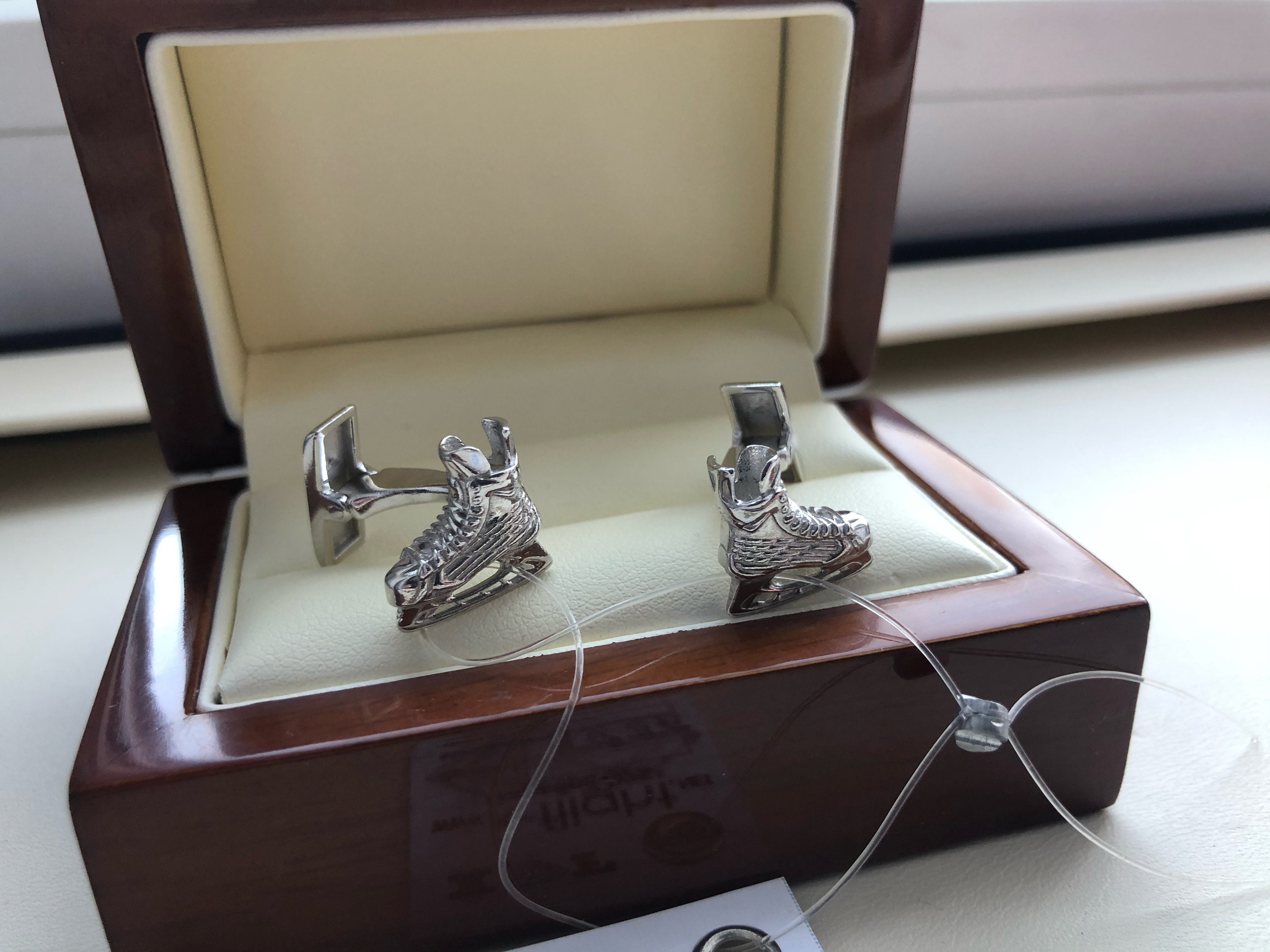 24. The Hockey Song in Hard Cover
Price: $21.36
Stompin Tom Connor's Epic classic illustrated in an adorable way. Yep I'm getting it.
25. Hockey Pencils
Price: $16.99
Not much to say about these. They just look cool. Great gift for a hockey lover
26. Medal Holder
Price: $89.99
They work so hard for their medals so give them something cool to hang them on. Get it HERE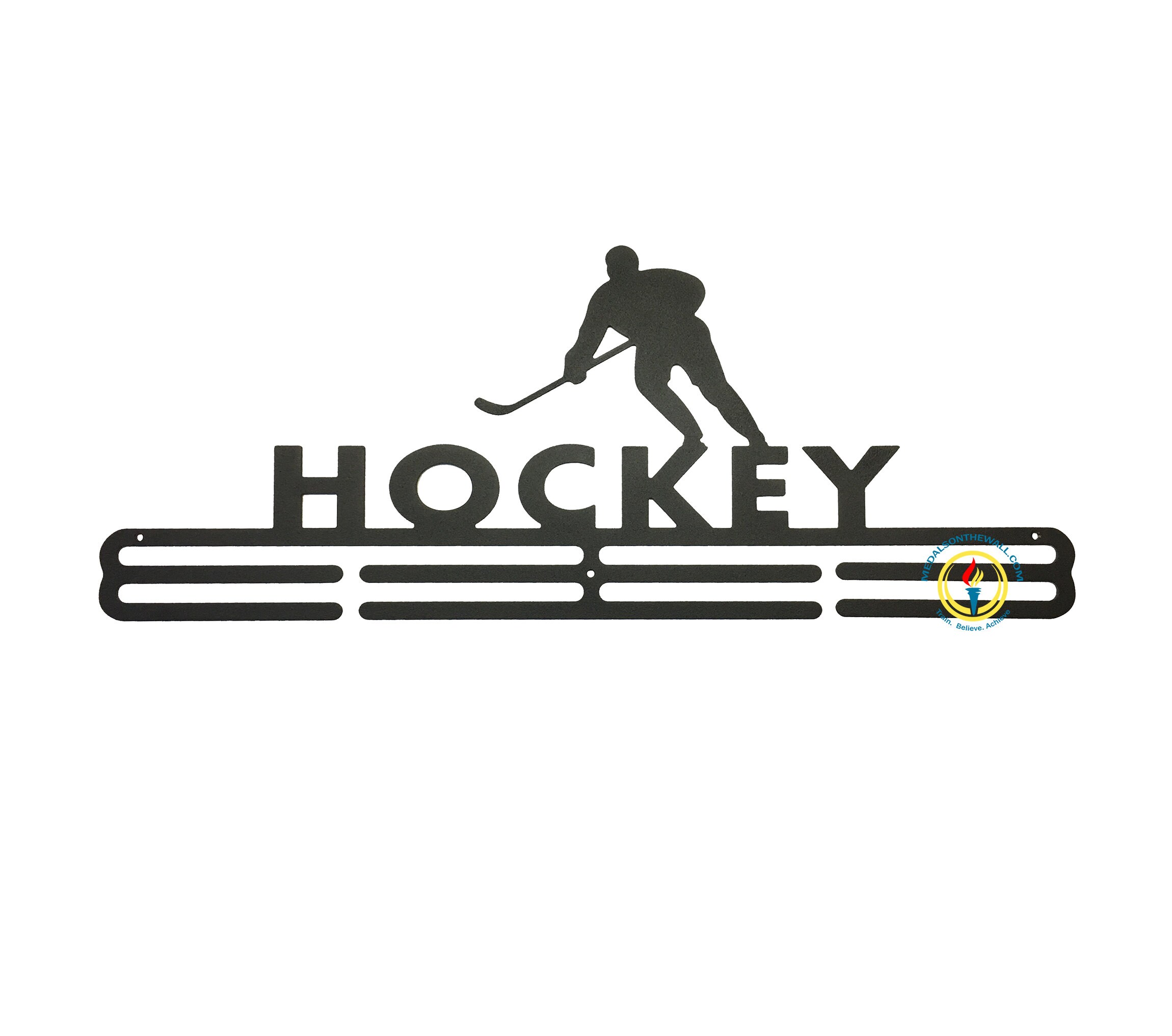 27. Novelty Sign
Price: $45.85-$105.35
This one might be a little bit more for the moms. Keeping that dream alive that the boys will only pee directly into the toilet. Maybe a a hockey reference might help?
Get it HERE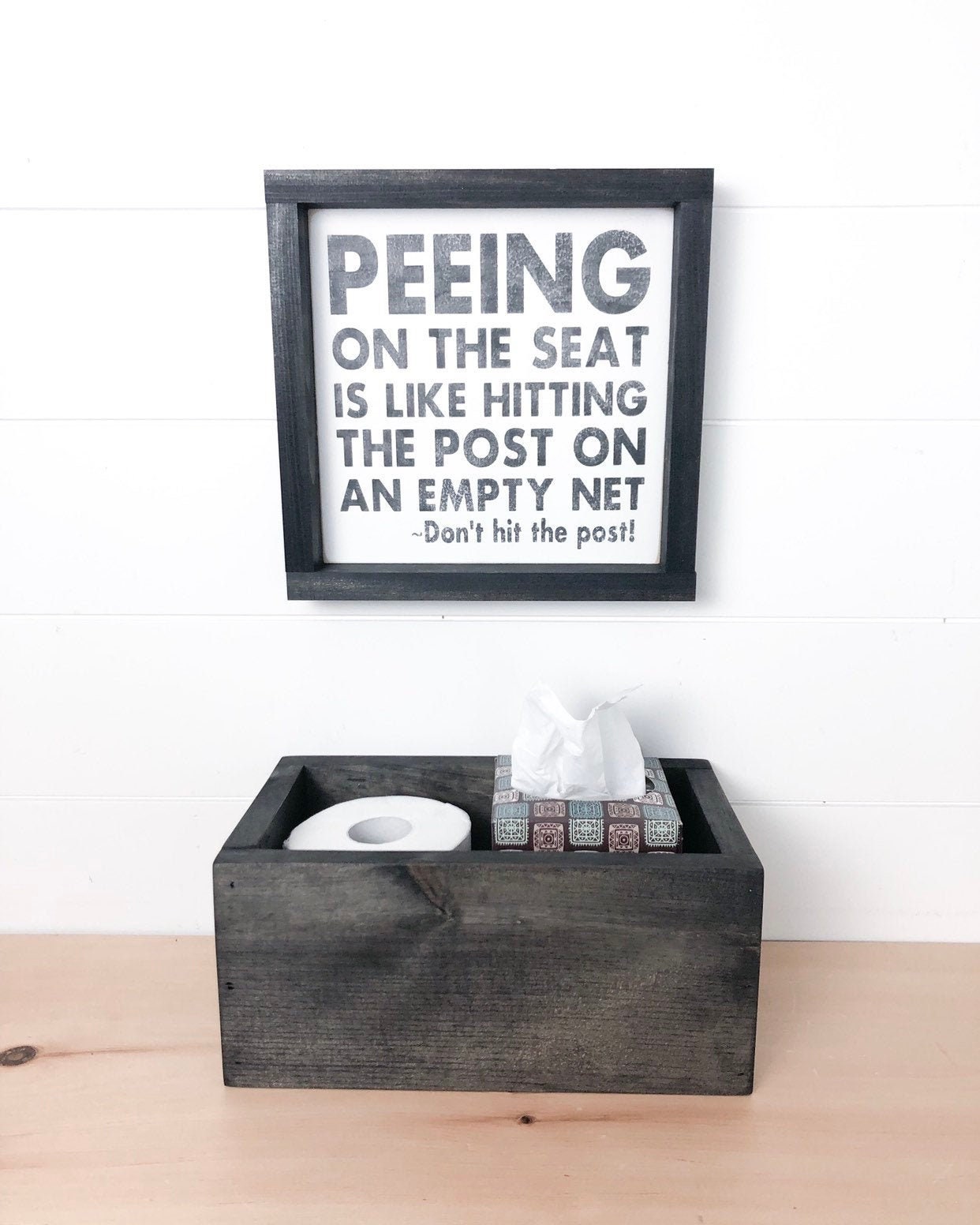 28. Hockey Extreme Slide Board Pro
Price: $279.95
Good little hockey gift for the off season. Keep those legs strong and I'm quite sure it would provide a lot of entertainment while they tried to get the hang of it.
29. Hockey Movie
Price: Varies
You can't go wrong with a sports movie. I am currently working on the most thorough epic hockey movie list I can make. Its taking a lot of research because I've identified 50 movies and I want to watch them all to see what is family friendly and which ones are for after they head to bed. Join the mailing list to be informed when I am done or check back soon!
30: Gift Cards to their Favorite Sports Store
Price: Whatever your little heart desires
There are times when my kids want something hockey gear wise that I just can't justify. They will always have safe helmets and gear that fits but I'm not going to pretend they are rolling to the rink in everything top of the line. Sometimes they want that fancy stick or new gloves when their old ones are just fine for another season. If they collect gift cards from different family members throughout the year they have a little sport bank of their own to splurge on something cool that I probably wouldn't buy otherwise.
I hope this list gave you some new ideas for your gift giving this year! I will keep updating and adding to it as I find new ideas.
Happy Hockey Gift Giving!